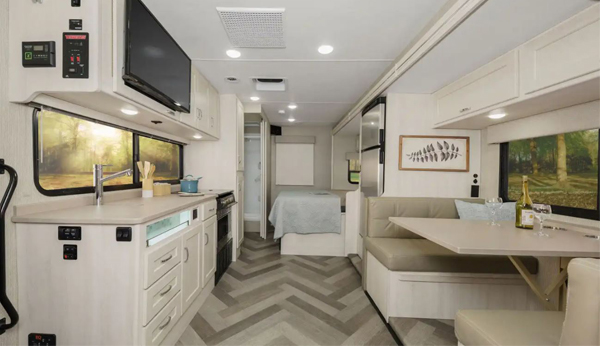 The Winnebago Vita is back!
The Winnebago Vita provides more of what you have been missing in the class C market.  This coach is a great size and big on features. You are going to love the swivel cab seats once you are parked, new multi-use storage cabinets with hidden hinges, overcab sleeping area, and a fully equipped Kitchen.

You will also experience the power and performance of the Mercedes-Benz Sprinter chassis that not only will get you wherever you dream to go, but do so providing fuel economy, and a comfortable ride.
The
Winnebago Vita 
allows you a convenient way to travel with impressive fuel efficiency. Whether you want to travel the country, go off the grid, or simply park in a family member's driveway, it's clear the

 
Vita™
 is
 more than best in class — it is simply in a class all its own.
Winnebago Vita Interior | Fabric Collections and Wood Cabinet Finishes
Winnebago Vita Oasis Interior